Power Rangers LG: Galactic Military Police Defenders
(PRLG:GMPD) was going to be a soon-to-be upcoming action-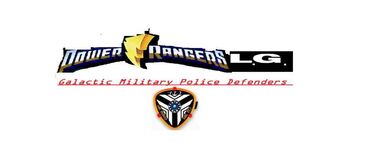 adventure sci-fi fantasy fanfilm to the long-running
Power Rangers
Television series, which was concurrently in pre-production progress. Prior to the declined promotion for 2011's
Power Rangers LG: The Rise of Trakeena
, Saban has decided to have
Paramount Pictures to
develop a sequel to the first film.
Galactic Military Police Defenders was going to be the first of a Double Feature continuation of the series for a June 4, 2012 release date, following a final sequel, Power Rangers LG: Vanguard .
Cast of Characters
Edit
Production
Edit
DevelopmentEdit
Casting (New Additions)Edit
With most actors from the first Power Rangers LG film not returning, Galactic Military Police Defenders introduces the faces of Mark Wahlberg (Rock Star, Shooter, Four Brothers) as the villainous and bionic Adonis the Chamelion , an escaped convict who was accused of the accidental death of Tony's father Rex Turner-Patterson Marshall, Jerry Trainor (who resently appears on high-rated Nickelodeon shows like iCarly, and the voice of Dudley Puppy in the nicktoon T.U.F.F. Puppy) as Eddie Cranston, a mentally unstable 29-year-old man who later becomes the villainous Carnage (same one from the Spider-Man comic universe), Brandon T. Jackson (Tropic Thunder, Big Mommas: Like Father, Like Son) & Matt Damon (The Formant, Green Zone, The Bourne films) as the 2nd Crimson and Navy Thunder Rangers Torch and former Red Ranger/Blue Zeo Ranger Rocky DeSantos , Joseph Gordon-Levitt (G.I. Joe, 500 Days of Summer, Inception) as the voice of General Havoc (Divatox's brother in Power Rangers: Turbo), and Shad Moss (aka. the rapper "Bow Wow") as new Yellow Galaxy Ranger Skip Richards (who later takes AJ Weems' place in the film).
Filming, Design, and EffectsEdit
(production is canceled)
Christopher Young , Marsh's collaborator for several of his non-related PR films, is the composer for the sequel. Marsh had Young start early compositions for the score after production of the first Power Rangers LG film had ceased in March 2011.