Lorenzo di Bonaventura (born 1957) is an American film producer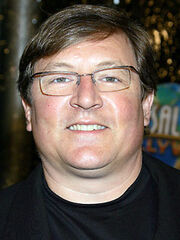 He spent the 1990s as an executive at Warner Bros. Pictures, eventually rising to President of Worldwide Production. His production company di Bonaventura Pictures is based at Paramount Pictures. His tenure at Warner Bros. included discovering and shepherding The Matrix into production, and the purchase of the rights to the Harry Potter books by J. K. Rowling.
He has purchased the film rights to the six-part series of fantasy novels The Secrets of the Immortal Nicholas Flamel by Michael Scott.[1] di Bonaventura said that Scott's fantastic series is a natural evolution from "Harry Potter". He will produce both remakes of It and Pet Semetary.[2] He will produce an action comedy loosely based on The Hunchback of Notre-Dame
His father, Mario di Bonaventura, who was a symphony conductor, sent him to Harvard University. He later received an MBA from the University of Pennsylvania's Wharton School.