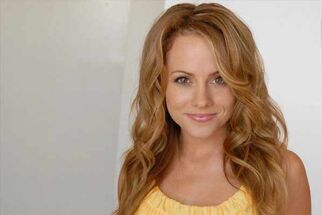 Kelly Michelle Stables (born January 26, 1978) is an American actress known for both stage and film acting.
Stables has acted in a number of plays. Her two largest roles were in the Thousand Oaks Civic Light Opera's Peter Pan as Wendy, and in Sleeping Beauty as the title character.[1] She has also played several other stage roles, most notably that of Marion Davies in W.R. and the Daisy.[1]
Stables is best known in the world of film for the stunt work she did for The Ring and for taking over for Daveigh Chase in portraying the (off-tape) evil Samara Morgan for The Ring Two. She was also in the short film Rings. Her roles in the Bring it On and Ring franchises would boost her popularity to the point of gaining mention in Rolling Stone, Star and Us Weekly. She also voices Will Vandom in W.I.T.C.H., and plays roles in General Hospital and St. Bartes-Aspen. She also briefly appeared in the pilot for The Grubbs. In November 2007, she has also had a role in an episode of Cavemen playing a 12-year-old cavekid boy.
Stables has a recurring role as Melissa, Alan Harper's receptionist (and girlfriend) on Two and a Half Men. She is working on a film called My Life Untitled.[3] She also guest-starred on 'Til Death as a travel agent. She also appears on the Burger King commercial as a woman who is selling things on infomercials.
Most recently she starred in the ABC show Romantically Challenged playing Lisa Thomas, Alyssa Milano's character's sister. She is the "Sexpert" of the group offering advice when it is not usually asked for.[4] The show was canceled after airing 4 episodes.
In 2011, she played a character named Claire on an episode of the CBS sitcom Mad Love.
Stables also played Jenny O' Hara , the younger sister of Pink Ranger Wendy Jane O'Hara ( Kristen Bell 's character) in Power Rangers LG: The Rise of Trakeena . In addition, Stables' character is confirmed to be the last Pink Ranger of the movie and also, she is confirmed to be the third Pink Galaxy Ranger only for the movie's epic climatic finale "The End of Terra Venture". In the film, Jenny is given the Pink Ranger powers after Gwen McQueen ( Shannon Spruill ) is forced to retire after the film's pre-finale "Escape the Dark Galaxy".