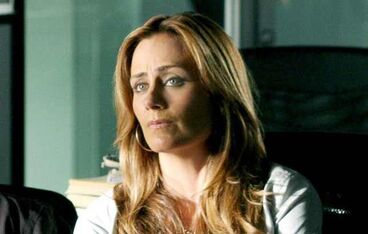 Jennifer DeWolfe is a fictional character in Anthony Marsh, Jr's fan-fiction era of Power Rangers , Power Rangers LG: Galactic Military Police Defenders. She is loosly based on the Spider-Man character also named Detective DeWolfe. DeWolfe is portrayed by Diane Farr, who is mostly known for her role as agent Megan Reeves in the CBS math- crime/drama Numb3rs (2005-2008).
In the fanfilm Power Rangers LG: The Rise of Trakeena , DeWolfe has a very small role in the film but at least she debuted in the segment "Criminal Crackdown" (a segment in which is after Trakeena's debut segment " Queen of the Throne ") where she is met by the Power Rangers (mainly the Red Ranger) and she gives our heroes "Unofficial" police assignments hunting down dirty cops and hated city gangs.
File Card Information (Trivia)
Edit
Jennifer DeWolfe is the youngest daughter of the DeWolfe family. Her mother of Lauraine DeWolfe, who was a cop for the NYPD (until she retired) and her father Ronald DeWolfe, who was a S.W.A.T. officer. Her oldest sister is Michelle DeWolfe (portrayed by Melinda McGraw) and she is the secretary of Commander S. Chalmers, the head field commander of space colony Terra Venture .
DeWolfe was born in Westchester, Pennsylvania.
She currently resides Seneca, New York.
Strict at some occations
Never married, but has a foster child and a unmarried Fianc'e
Smart-witted with crimes and criminals.