Brenda Joyce Cincone
(b. December 8, 1958) in
Elizabethtown
,
Kentucky
, currently residing Times Square,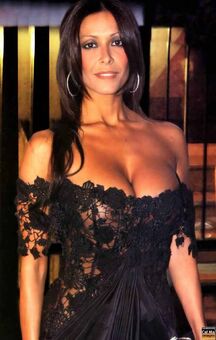 New York ) is a half-Italian, half-German-born American actress, voice actress, dancer, make-up artist, valet, singer, cosplay performer, model, and drag-queen. She was originally portraying the role of
Trakeena in
the
Power Rangers: Lost Galaxy
-inspired fan-film,
Power Rangers LG: The Rise of Trakeena.
while taking turns with
Amy Miller
, the character's original actress. She once dubbed the character's voice in only two scenes of the film and was resently fired from the series and she resently quit the film as of October 27, 2010. Cincone is also Amy Rolle's look-alike split-image twin and she is a drag-queen.
Due to getting fired twice, Cincone decided to quit acting.
Although, she didn't into The Rise of Trakeena, she is being re-offered to appear in the Power Rangers: Lost Galaxy (film) reboot film for 2013 as the same character..
Career Overview
Edit
Beforehand, Cincone started off appearing in mainly independent films.
She even has an acting job in theatre. The only two theatre productions she played in were Hello, Dolly! in 2002 and played Tinker Bell in a Peter Pan stage production in 2003. Due to budgetary cutbacks in theatre, Frishman lost her job for that occupation and decided to play in on-screen productions (film and television. respectively).
In voice acting, Cincone mainly does additional voices regarding in animated films, video games, and animated cartoon shows. She provided additional voices and minor live/animated roles in such animated and live TV, film, and video game productions such as , 'Lady and the Tramp II: Scamp's Adventure, Totally Spies,, SpongeBob SquarePants, 'South Park,'Team America: World Police., Family Guy, 'Robot Chicken', Elvira, Mistress of the Dark (1988 film), The Emperor's New Groove, 'The Simpsons, and other productions to name a few .
Power Rangers (1999-2001, 2010, 2011-TBA)[1]EditEdit
Cincone was suppose to voice two monsters in
Power Rangers: Lost Galaxy
, but she was uncredited. In the show's severth season, she voiced the
Hexuba
-monsters
Impostra
and
Maronda
. She originally was going to provide the voice of the mutant
Contemptra
in
Power Rangers: Time Force ,
but she was replaced by former PRLG actress
Valerie Vernon
, who played
Kendrix Morgan in
that series. After years of a unsuccessful, stressed-out career to star in anything, recieving no attention, she returned to the Power Rangers franchise, but only for two times. Her most-decieving appearence to ever garner any popularity was the role of
Trakeena
(an older, but motherly-type of villain) in Power Rangers
Lost Galaxy
's dedicated fan-film
Power Rangers LG: The Rise of Trakeena.
While playing the role, Cincone was going to take turns with
Amy Miller
, who made an unexpected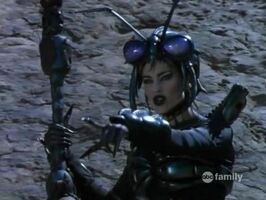 appearence on the onset, and recreated the character to appear as a akin to a drag-queen, with a lot of makeup on her face (but gothic), a deep, dark sexual personality, diagnosed with several mental illnesses, and an addition to the character's costume, hanging breasts and a half-slim/half-fat body as the villainess is akin to
Batman
villainess
Harley Quinn
and the
Soulcalibur
character
Ivy
.
Unfortunately, on October 27, 2010, it is reported that she has "quit" the film and she is fired. After Brenda was fired the part is given back to Amy Rolle.
It was announced by Anthony Marsh, Jr that Brenda will return to play Trakeena in the 2013 reboot.
As a Drag-QueenEdit
While not acting, Cincone is disguised as a drag-queen in mostly show acts in Las Vegas.
As a Singer (Music Work) Edit
Cincone, though as Amy Rolle's split-image look-alike, is the lead singer of Anthony Marsh, Jr's metal band, The Scorpion Screamers. Her vocal performance as the band's lead singer is cited as a inspiration to such female artists such as Blondie, Pat bennatar, Madonna, and Christina Agulara, but in a very dark, gothic satanic tone. Cincone also has quit the band on October 28, 2010, prior to her stint of being "fired" from starring in the Power Rangers: LG film. Amy Rolle returns as the band's lead singer.
Cincone also worked on music scores for certain porn films.
Modelling WorkEdit
She modeled for Victoria's Secret in 2006. Despite her age as a half-older cougar, she was released.
Personal Life
Edit
Cincone was married one time by Douglas Sloan, who is very known for his work on Mighty Morphin Power Rangers , dated Ron Wasserman one time, and later got divorced. She has one biological child (a daughter) and two foster children.
She is not a fan of Power Rangers, but resent stated that she has heard of the show since its skyrocketing 1993 beginning with the very first episode of the franchise Day of the Dumpster , though.
Brenda mainly resembles to model and TV personality Sara Varone .
Brenda is a porn model.
Filmography
Edit